improveit 360's address verification is powered by SmartyStreets - if you have this feature activated in your system, when entering addresses, you will see a green checkbox when an address is verified: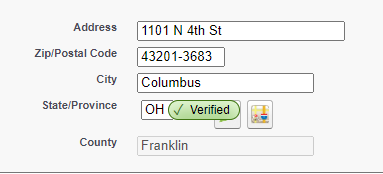 If you enter an address and it is NOT able to be verified, you will see this pop-up:

If you click 'Use As It Is', the checkmark will stay grey:

Q: Why is my customer's address not verified? I know it's a real address.
Our address verification relies on SmartyStreets' database of verified addresses - even though it may be a real legitimate address, it may not yet be in the database.
You can use this tool here to see if an address is in their database:
SmartyStreets Single Address Verification
Q: I Google'd my customer's unverified address and found the location, why isn't it verified in Smarty Streets?
Google is a mapping tool, not an address validation database - it can approximate where an address should be, but that does not mean it is a legitimate, standardized, and validated address.
SmartyStreets: How Do I Tell if This Address Is Real/Valid?
SmartyStreets: Google Address Validation