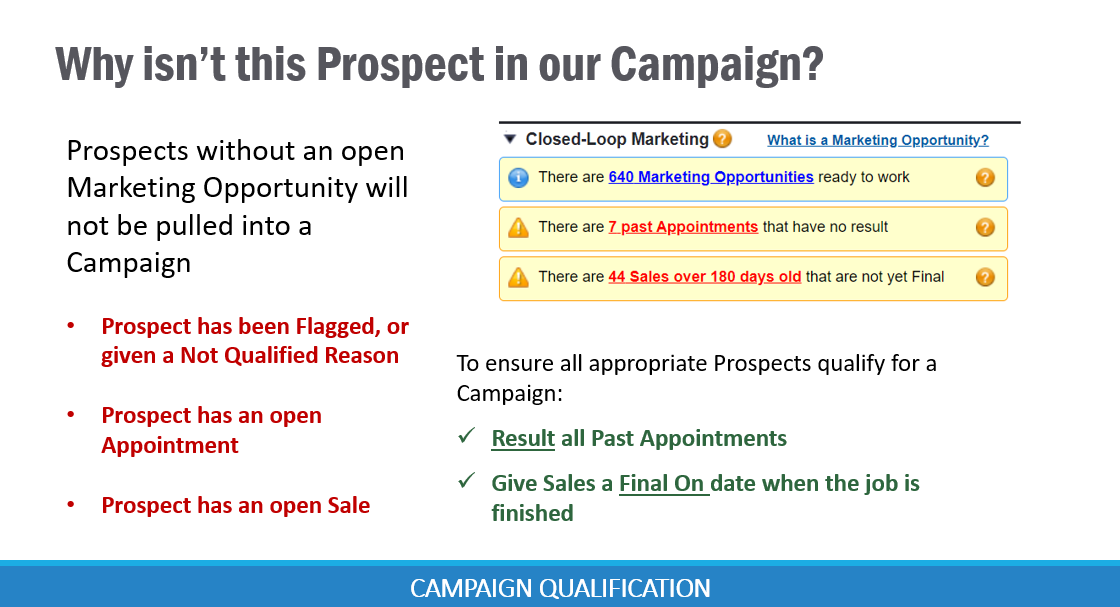 Has the Prospect been marked as Not Qualified?
Does the Prospect have a past Appointment that hasn't been Resulted?
Does the Prospect have a past Sale that hasn't been marked Final?
These are the first three reasons a Prospect would not Qualify for ANY Campaigns.
If the Prospect should qualify but isn't coming into the Call Queue in the campaign you expect them to, first check to see if the Prospect may already be a Campaign Member in an existing Campaign.
Navigate to the Prospect record, scroll down to the Related List for Campaign Members.
If you do not have a Campaign Members related list, follow these steps to add the Campaign Members object as a related list on the Prospect page: Add Related List Settings
Once you can see the Campaign Members related to this Prospect, look to see which Campaign the Campaign Member currently belongs to.
Next, you'll want to Edit the Filter Criteria of the Campaigns to assure the correct leads are falling into the correct Campaigns. See also: Editing Campaign Filter Criteria to Ensure Mutual Exclusivity
If the Campaign Member is in the wrong Campaign, follow along with Step 2 of the Article below to either Complete the Campaign Member, or place them directly into the Campaign under which they meet the specified Criteria. The Campaign Members will be grouped by the most recent Disposition so be sure to note the last Disposition of that Campaign Member. NOTE: You will not Retire the Campaign, just Complete or Move the Campaign Member.