The Guild Quality integration with improveit 360 allows clients to send select Data from improveit 360 to Guild Quality to trigger a Survey to be sent to Prospects at various stages of the customer life cycle. This is setup as an Advanced Service for a one-time fee of $500.
NOTE: This Setup documentation is intended for clients or GuildQuality to perform the setup. There is also a portion of the Setup that must be completed by improveit 360's staff. The Setup Steps for the improveit 360 portion of the integration can be found here: improveit 360 Internal Setup Steps
GuildQuality integrates with software platforms to enable seamless collection and reporting of customer satisfaction data. By partnering together, GuildQuality can provide:
Automated SMS, email, and phone surveying
Data sync via API
UI integration
GuildQuality lets improveit360 customers initiate automated phone, email, and text surveying of prospects and customers, by sending Data from improveit 360 to GuildQuality.

Once surveyed, you can report on satisfaction throughout the buyer journey on GuildQuality, and take action on unsatisfied customers with real-time alerts.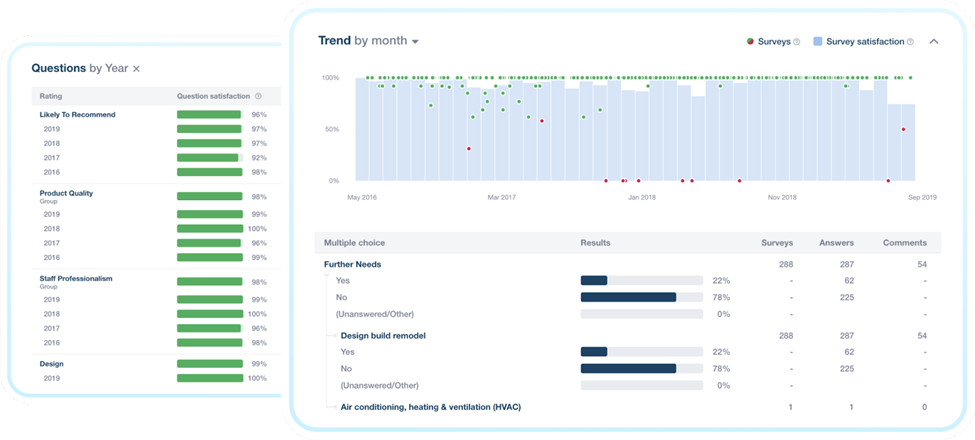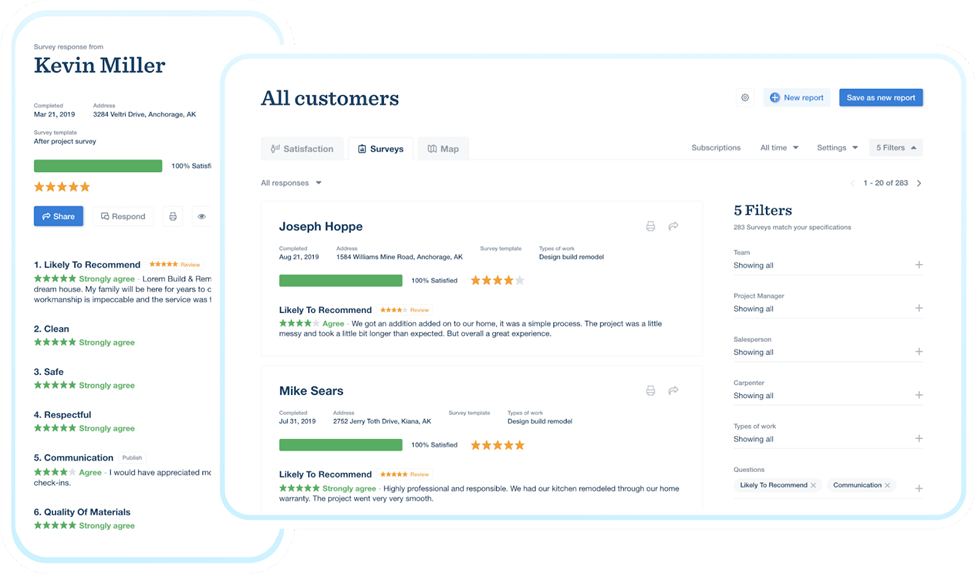 More information: https://help.guildquality.com/gq3/improveit-360/
To learn more or sign up for a free trial of GuildQuality, visit https://www.guildquality.com.
If you're a current GuildQuality user and want to enable this integration, contact your improveit360 account rep to begin.
GuildQuality Setup
GuildQuality allows for you to integrate your customer data from improveit 360 directly into our application. To set up your integration, follow the steps below;
-Log in to your GuildQuality account
-On the left hand, blue navigation bar, select CONTACTS
-In the white navigation bar next to CONTACTS, select IMPORT CONTACTS
-In the center of the IMPORT CONTACTS page, under "Manage integrations" click OPEN next to improveit 360
Select the integration that best meets your needs;
improveit 360: Appointment sync
Automatically sync appointments from improveit 360 into GuildQuality as they're created.
improveit 360: Project sync
Automatically sync projects from improveit 360 into GuildQuality as they're created.
improveit 360: Sale sync
Automatically sync sales from improveit 360 into GuildQuality as they're created.
Once you select "add", you will begin to walk through each step to set up the integration, as outlined in the app;
Connect to the correct improveit 360 account, click save & continue.
Configure improveit 360 – This will filter what data is sent to GuildQuality. Please note- data must match ALL filter criteria selected. Click save & continue.
Map data values available within GuildQuality to the data being provided by improveit 360, click save & continue.
Select the survey template(s) you wish to send to the customers that are imported. Click save & continue.
The final step is to save & activate the integration