When scheduling an Appointment, improveit 360 can adopt the earliest Time from a Time Block for the Appointment's Start Time by using the following Custom Setting.
To enable this feature, navigate to Setup
Custom Settings > Public System Settings
Change the 'Time Block Update Appointment Time' to TRUE
Click Save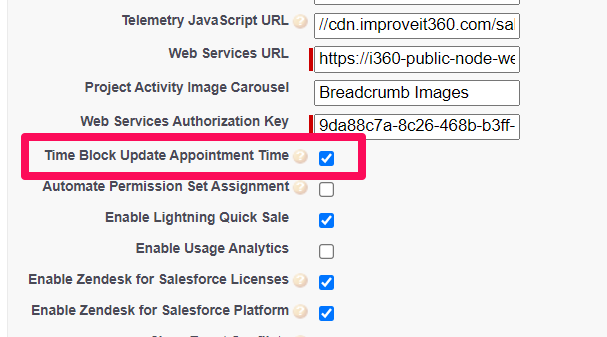 Limitation
This Custom Setting is only available when scheduling an Appointment outside of the Call Queue. The Call Queue Visualforce Page does not support the 'Time Block Update Appointment Time' setting.
Resolution
improveit 360's staff can create a Custom Process to update the Appointment Time if Appointment Time has been left blank. Reach out to a member of our Support Team if you are scheduling Appointments in the Call Queue using Time Block Scheduling and you want the Time to default to the earliest Start Time of the Time Block.