This article will provide a basic explanation of the four displayed User License Types on the Company Information page.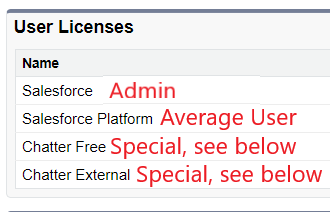 Salesforce
This is the System Administrator license type. These licenses are slightly more expensive and ensure that the Admin user has access to all administrative level actions. Profile settings will always dictate what data can be viewed or modified by a user. This is the only license type that allows you to make changes to the back-end of the system, like creating custom fields, activating users and customizing the User Interface of the application.
Salesforce Platform
Your desktop user and mobile user license type. This is the license type that will be used by the majority of your company's users. This license will enable someone to view and modify data based on their User Profile settings, as set up by the System Administrator User(s). Profile settings determine the level of access each User will have within the application.
Chatter Free
The Chatter Free License is for users who do not have Salesforce licenses but must have access to Chatter. These users can access standard Chatter items such as people, profiles, groups, and files but they can't access any Salesforce objects or data (so they cannot access Prospects, Appointments, Quotes, Sales or Projects). Chatter Free users can also be Chatter moderators.
Chatter Free users will not see tabs like other Salesforce users. Chatter Free users access feeds, people, groups and files using the App Launcher in Lightening Experience. In Salesforce Classic, users access these features from links within the sidebar menu.
Salesforce administrators can upgrade a Chatter Free License to a standard Salesforce or Lightening Platform Starter license at any time. You can't convert a standard Salesforce, Lightening Platform Starter, or Chatter Only license to a Chatter Free license.
Chatter External
This license is for users who are outside of your company's email domain. These external users, also called customers, can be invited to Chatter groups that allow customers. Customers can access information and interact with users only in the groups they're invited to. They have no access to Chatter objects or data. Chatter External users can view user profiles, but they can't edit them.