Department Dashboards Tabs are a collection of Links, List Views, and Reports and Dashboards which are generated elsewhere in the improveit 360 application. Department Tabs are an excellent way to consolidate the information needed by the Users in each Department of your company. For this reason, the naming of Department Tabs often correspond with your Department names like "Appointment Center" or "Accounting." Your Department Dashboard Tabs can be setup and named specifically for your company's needs and the most relevant information for the Users within each Department.
In order to see which List Views comprise a Department Tab, you'll go to the Department Dashboards Tab. This is where the setup and editing for each Department Tab will take place.
See also: Getting Started with Department Dashboards (video series)
See also: Troubleshooting - Department Dashboard Blank Page
Navigate to the All Tabs (+) page, then find the "Department Dashboards" Tab in the left column.

NOTE: If you do not see this Tab on your All Tabs page, see also: User Profile Tab Visibility . Be sure your User Profile has access to the Department Dashboards Tab. If you are not the System Administrator User at your organization, you'll need to request that your System Admin grant you access to the Department Dashboards Tab.
After clicking on the tab, you'll see a list of your dashboards. Choose the 'All' List View and then click Go!

Click the blue 'Edit' button next to the dashboard you'd like to edit.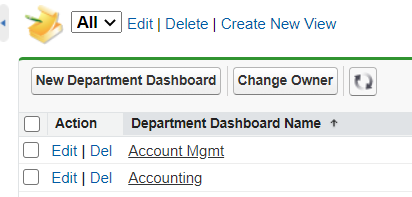 On the Edit screen, you can see each of the current components, be they Links, List Views or Reports and Dashboards as well as where each component originated from. The buttons/hyperlinks at the top of each Department Tab are setup and managed in the Links section of the Department Dashboard edit page.
'List Views' are the most commonly edited and used component of each department dashboard. Under the List Views section you can see the name of each list view as well as the Object/Tab where the list originated from. To change the Fields visible in the List, or edit the Filter criteria of a List, you will need to Edit the List View on it's Tab/Object of origin. For example, if I wanted to edit my List View named "Sales without Deposits" I would need to go to the 'Sales' Tab, locate the "Sales without Deposits" List View and click Edit on that specific List. See also: Creating List Views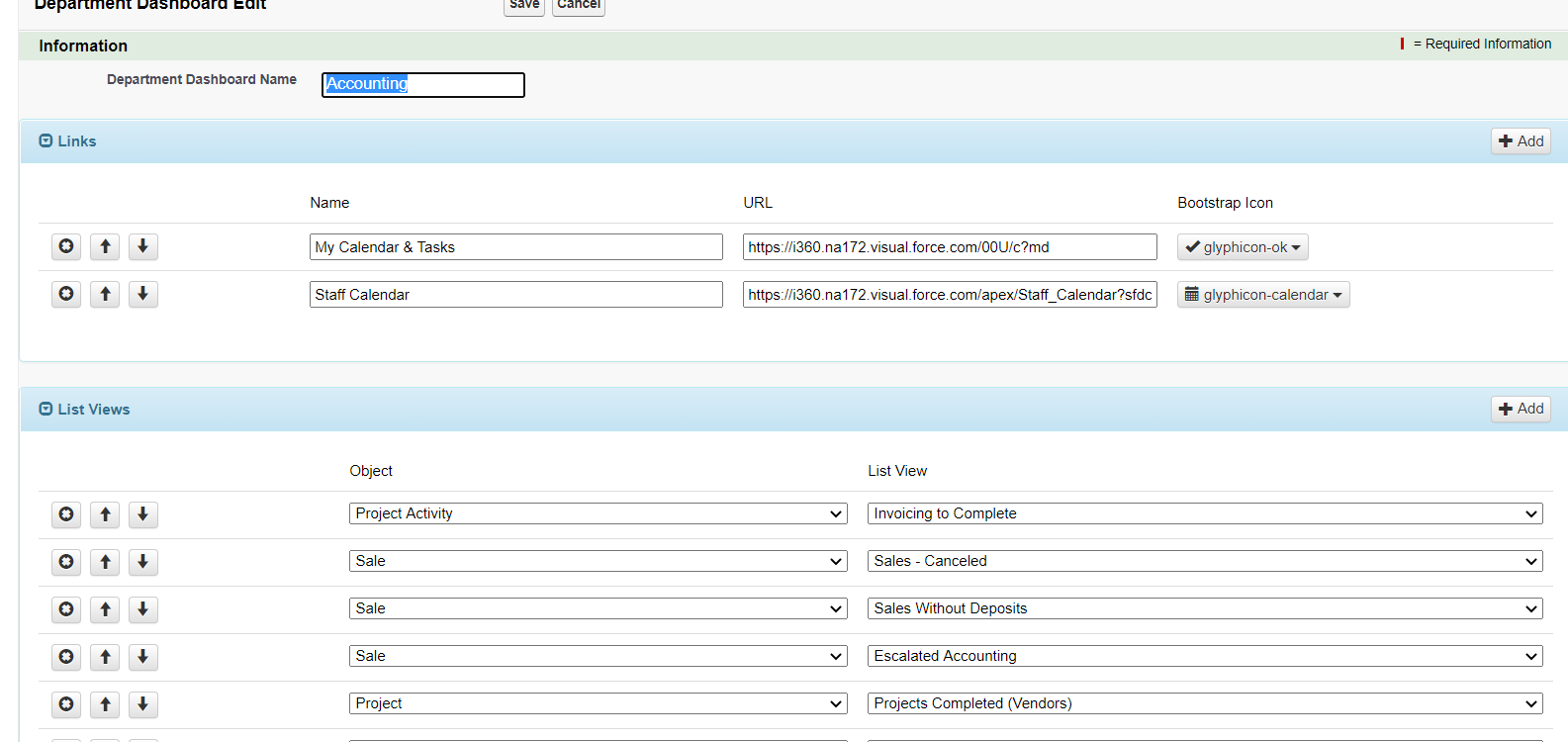 Finally, the bottom sections allow you to edit the Reports and Dashboards that are available from the Department Dashboard Tab as well as see which Folder(s) those Reports and Dashboard are located within. NOTE: Before adding Reports or Dashboards to a Department Tab, be sure you have shared the Report and Dashboard Folders with Users who need to access the Reports and Dashboards from the Department Dashboard Tab. See also: Sharing Report & Dashboard Folders
Below is an overview video of editing a Department Dashboard Tab to add a List View originating from the Marketing Opportunity object/tab:
See also: Creating List Views
See also: Sharing Report & Dashboard Folders