improveit 360 offers three main Package options: Professional, Enterprise, and the Products & Materials Add-On Package. (Note: If your company is part of the Supportworks or Contractor Nation dealer networks, see also: Supportworks Package feature comparison, available only to SW/CN Admin Users)
Below is a diagram showing the features of each Package as well as more information about the features of Enterprise Edition.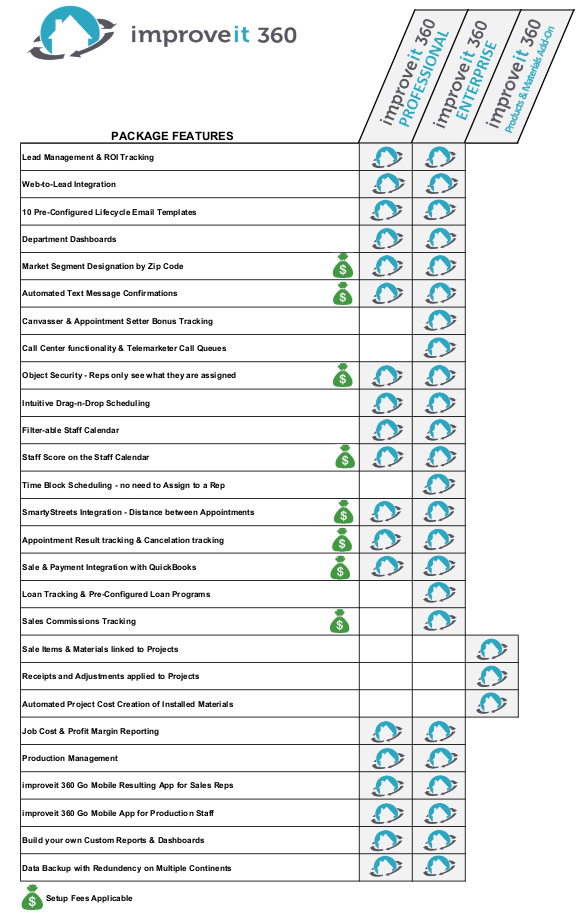 See also: improveit 360 Installed Packages
An Upgrade from Professional to Enterprise will allow your company to take advantage of the following features (not included in the Professional Package):
Call Queue & Campaigns
improveit 360's Call Queues are perfect for every size business from companies who have their sales reps make outbound calls all the way up to companies with giant call centers. Organize your call queues by type, lead source or any other field to quickly group similar opportunities into an easy-to-work call list. Never letting a lead, cancelled appointment or rehash opportunity slip through your fingers, improveit 360's Call Queue will give your team a leg up on the competition!
Click for Video: Call Queue & Campaigns Introduction
Click for Video: Call Center Manager Training - How to Setup Call Campaigns
Time Block Scheduling
improveit 360's Time Block Scheduling feature takes the guess-work out of scheduling, allowing your team to quickly assign appointments to open blocks of time, rather than assigning to a specific Rep. This allows your team to immediately schedule with the homeowner without needing to check a Rep's availability. The Appointment Manager tool then allows you to dispatch the appointment to a specific Rep later. Time Block Scheduling and the Appointment Manager are perfectly paired with the Call Queue, making your Appointment Setters faster and more efficient than ever before!
Click for Video: Time Block Scheduling & Appointment Manager
Commissions Tracking
"We pay commissions based on if the Rep sold over or under the PAR Price"... Here at improveit 360 we've heard it all! However your business calculates Commissions, improveit 360 can help your business track when Commissions are due to be paid and when they're paid out through payroll.
Click for Video: Commissions & Staff Account Transactions
Loan Approval Tracking
Loan Programs and Loans allows your business to track financing from the Lenders you work with. A Loan record is created off the Sale to indicate the Amount of the Loan, the total amount the client was Approved to borrow, Loan Approval date and much more.
Click for Video: Lenders, Loan Programs and Loans
To learn more about improveit 360's Products & Materials Package, see also: Products & Materials Add-On Package Details
Upgrade to Enterprise - one time $1000 fee
Products & Materials Add-On Package - one time $1200 fee
Contact Support for information about upgrading your improveit 360 system!