This Article covers three of the primary eLead Reports including the Lead Credit Report, Unconverted eLeads and eLeads Week to Date sorted by Lead Provider.
Pay per Lead - Lead Credit Report
One of improveit 360's out-of-the-box Reports is intended to help your Marketing team track eLeads (which your company has likely paid for) that were deemed as Not Qualified or Wrong Number after your company contacted the lead. There may be an opportunity to "return" these bad leads for a credit from the lead provider. Check with your lead provider on the terms of your lead purchasing agreement.
Navigate to the Reports Tab
In the Search window, search "Lead Credit" and locate the Pay per Lead - Lead Credit Report

This report lists all of the eLeads received from Lead Providers and your website in the last 60 days with an emphasis on Prospects who have been Disqualified or marked as Wrong Number.

Record Count

- the total number of eLeads received from each Lead Provider
Not Qualified - the number of Prospects marked as 'Not Qualified'
Wrong Number - the number of Prospects flagged as having in incorrect phone number
Disqualified (%) - the percent of eLeads that turned into Disqualified Prospects
Wrong Number (%) - the percent of eLeads that turned into Prospects marked with an incorrect phone number.
This Report is a powerful tool to monitor the quality of leads you are purchasing from Lead Providers. Keep in mind, you may want to add a Filter to exclude certain Source Type values from this Report. If you need to know more about using Report Filters, see also: Using Field Filters and Cross Filters in Reports
eLeads This Week by Source
This Report is grouped by the Source Name and shows eLead details with potential Conversion Issues. Out of the box, this Report is looking for eLeads received during the current calendar week. To change the Date Range, see also: Editing Date Ranges, Sort Orders and Report Groupings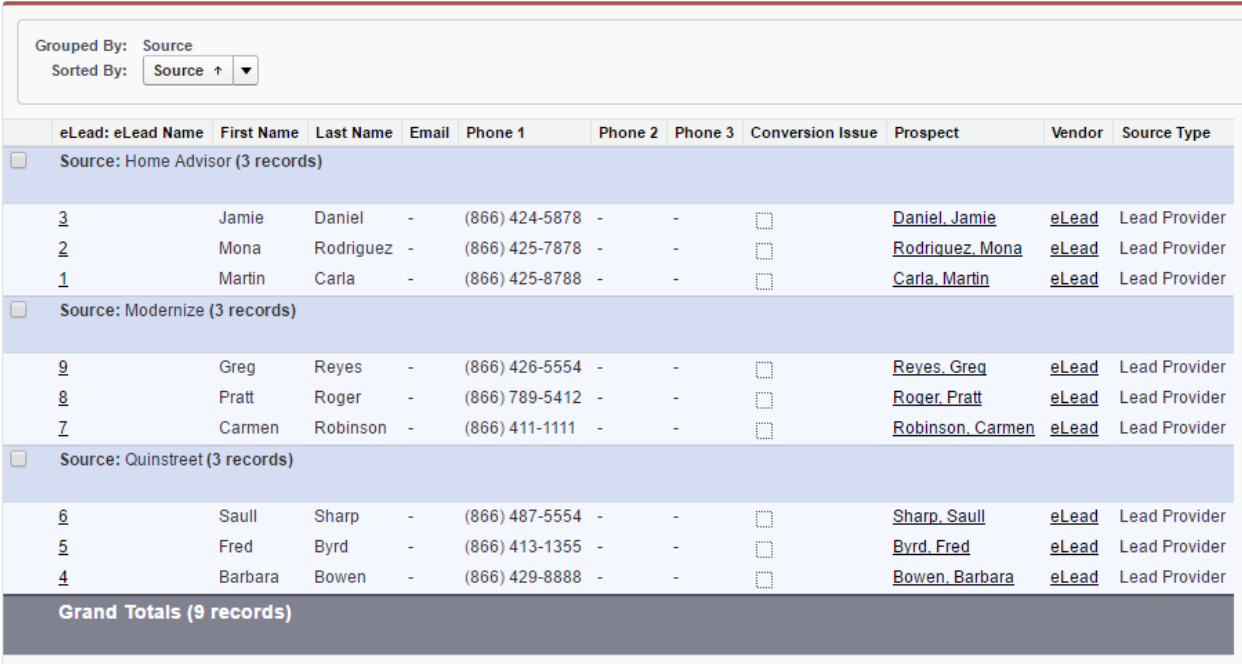 eLeads not Converted
This Report shows all eLeads which have not been converted to a Prospect. Note: the system requires at least one method of contact. If no contact method is present, the eLead will remain unconverted.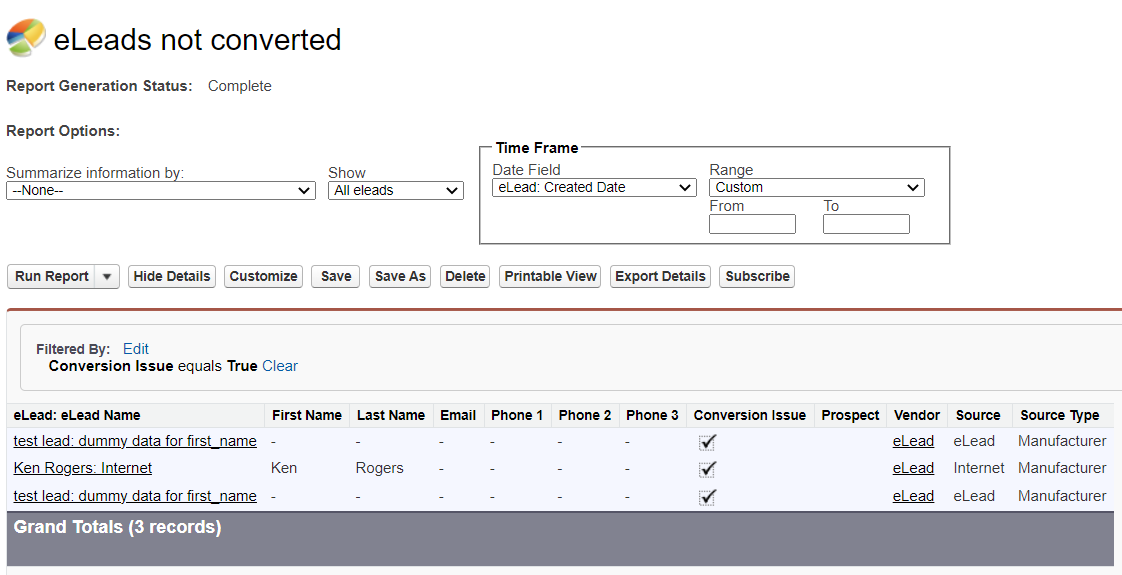 eLeads Report Folder
Also note on the Reports Tab there is a Report folder dedicated to eLead reports. In addition to the Reports we've highlighted above, you can find the following 4 Reports in the eLeads folder: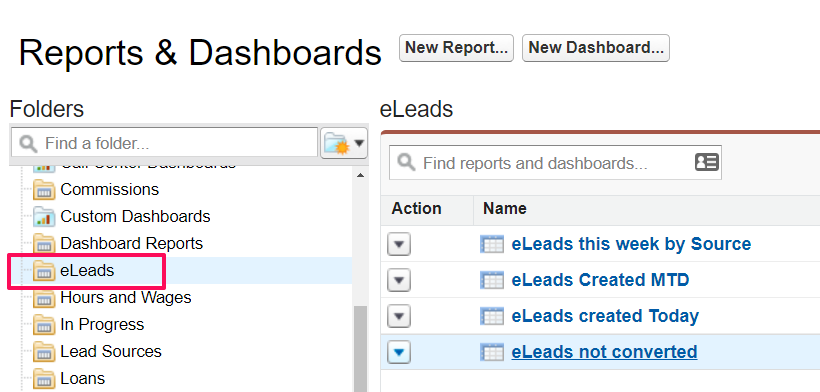 What if I cannot see the eLeads Folder on my Reports tab?
Talk to your System Administrator User. Report and Dashboard folders must be Shared in order for other Users within the organization to see the Folders and the Reports within them. See also, Report and Dashboard Folder Sharing Options.